You must be logged-in to watch the video.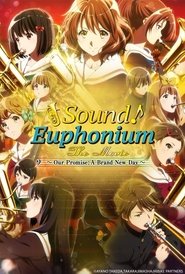 Sound! Euphonium the Movie: Finale Oath
Kumiko is now a second year and one of the senior players of the euphonium section. With new underclassmen joining the concert band, Kumiko will have to learn new things in order to deal with awkward and difficult underclassmen. She and third-year trumpeter Tomoe Kabe have been chosen to lead the new underclassmen members. Among the new members to Kumiko's bass section are euphonist Kanade Hisaishi, whose appearances are deceiving; tuba player Mirei Suzuki, who cannot adapt to her new environment; tuba player Satsuki Suzuki, who wants to get along with Mirei; and double bassist Motomu Tsukinaga, who cannot talk about himself. Between the Sunrise Festival, chair placement auditions, and the competition, a number of problems quickly begin to arise.
Views: 6
Genre: Animation, Drama, Music
Director: Tatsuya Ishihara
Actors: Ayaka Asai, Ayaka Nanase, Chika Anzai, Haruki Ishiya, Kenjirou Tsuda, Konomi Fujimura, Minako Kotobuki, Misaki Kuno, Miyuki Kobori, Tomoyo Kurosawa
Country: Japan
Duration: 101
Quality: HD
Release: 2019